Not since the days of Tony Hawk's Pro Skater and (what I felt was the superior) Grind Session, have I played a game involving skateboards. So after a nearly 20 year break from the genre I was interested to see this colourful offering pop up on keymailer, naturally I asked for it and was lucky enough to receive!
You can see my first play here.
Graphics at first glance seem like a cuter version of the Gorillaz, with some Rocko's Modern life colour pallets thrown in, certainly not what you'd expect from a skating game but its exactly what drew me in. It looks fun, light, not to serious of itself taking. We need more of that from games, instead of the current trend of making all things dark, with poor lighting or 'atmospheric' with little colour variation in the world.
On loading it it also really reminded us of Adventure time and there was a character on the intro-story loading screens looks like Princess Bubblegum, the "I've let go" years.
Character customisation started off with a meeple with purple hair – HOW DID IT KNOW??
I liked the different options and it was clear there was more to be unlocked, there should be something for everyone here.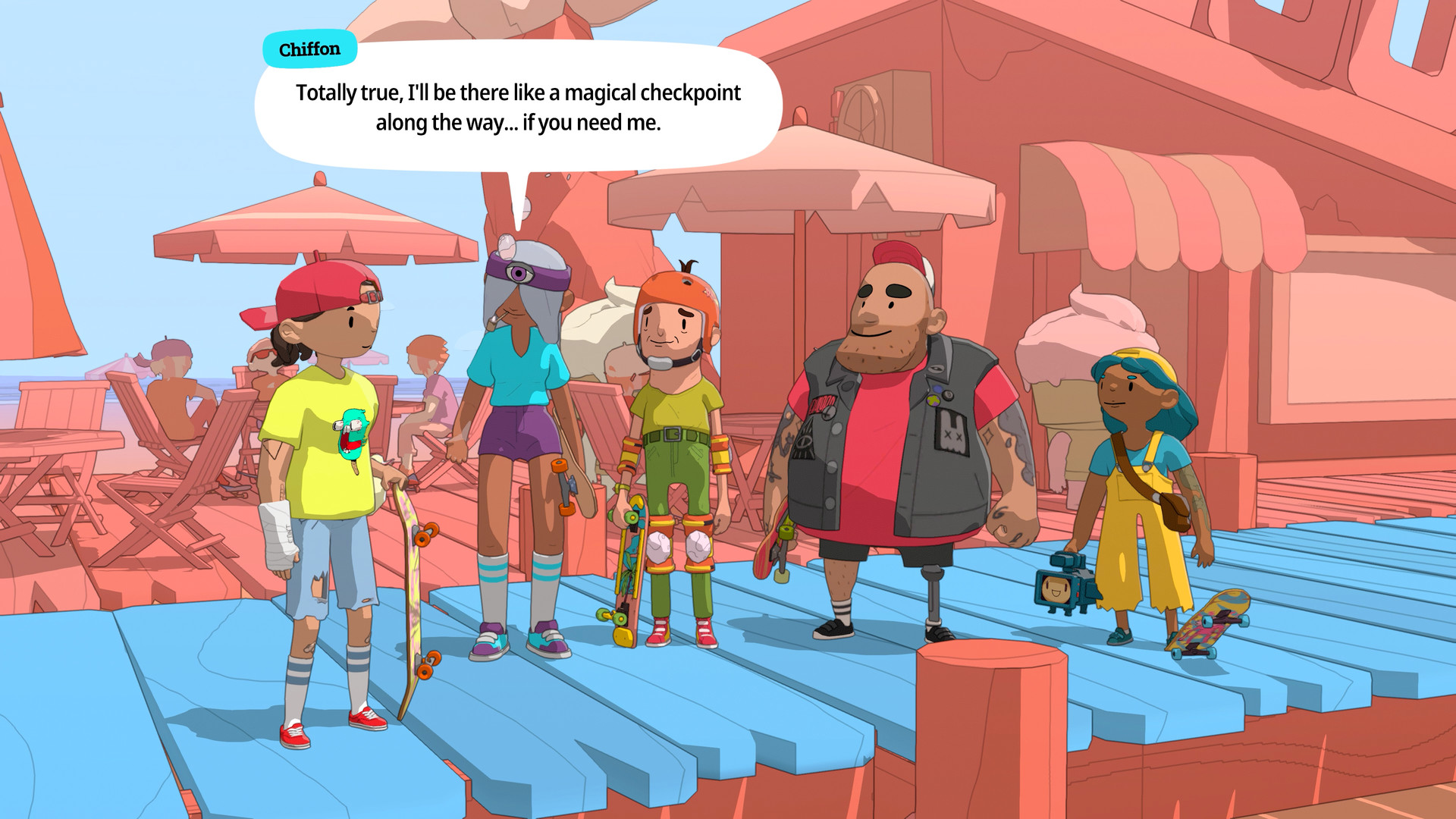 You jump straight into the first 'world', I like the fact its progression through zones and levels – way more interesting than the skating games from two decades ago. There is a point to continuing and pushing on.
You meet the team and they are all excited about you possibly becoming the next master, the Dad character is a bit weird though.
Controls are easy to understand and each new thing is introduced in a way that weaves it into your previous skills.
I like that its face paced although that is a tad unforgiving if you miss-time a jump or trick but the fast respawn means that isn't too much of a problem. The side scrolling nature of each level with you doing tricks reminds me of games like Joe Danger,
I am half an hour or so in, and about half way through the first world. I am not sure what is left in terms of hardness progression or what else is to be added/strung together for tricks. I am enjoying the inclusion of grinding, that feels familiar from other skating games and fun.
Fun is just the overall vibe of this game. As someone who cannot skate IRL (and has no desire to) this is a nice vicarious colourful wish fulfilment. Worth checking out if this is your kinda jam, just a shame (for house Shiney) that there isn't a couch versus/split screen mode but it does have asynchronous multiplayer.
Shiney Rating
3.5 paws out of 5
A nice fresh take on a sports genre that usually takes itself too seriously. Simple clean premise, progression and controls. Worth a look if you're wanting something different to play, or fancy having a crack at a totally less serious game. From the little known Roll 7 this is an excellent little game and I look forward to seeing what else they and Private Division come out with.