So this headset ended up being a replacement for my Turtle Beach Recon Spark Headset.
I have become more of a fan of Razer gear in recent months after I was lucky enough to receive a Cynosa V2 and wanted to carry on with my RGB kit.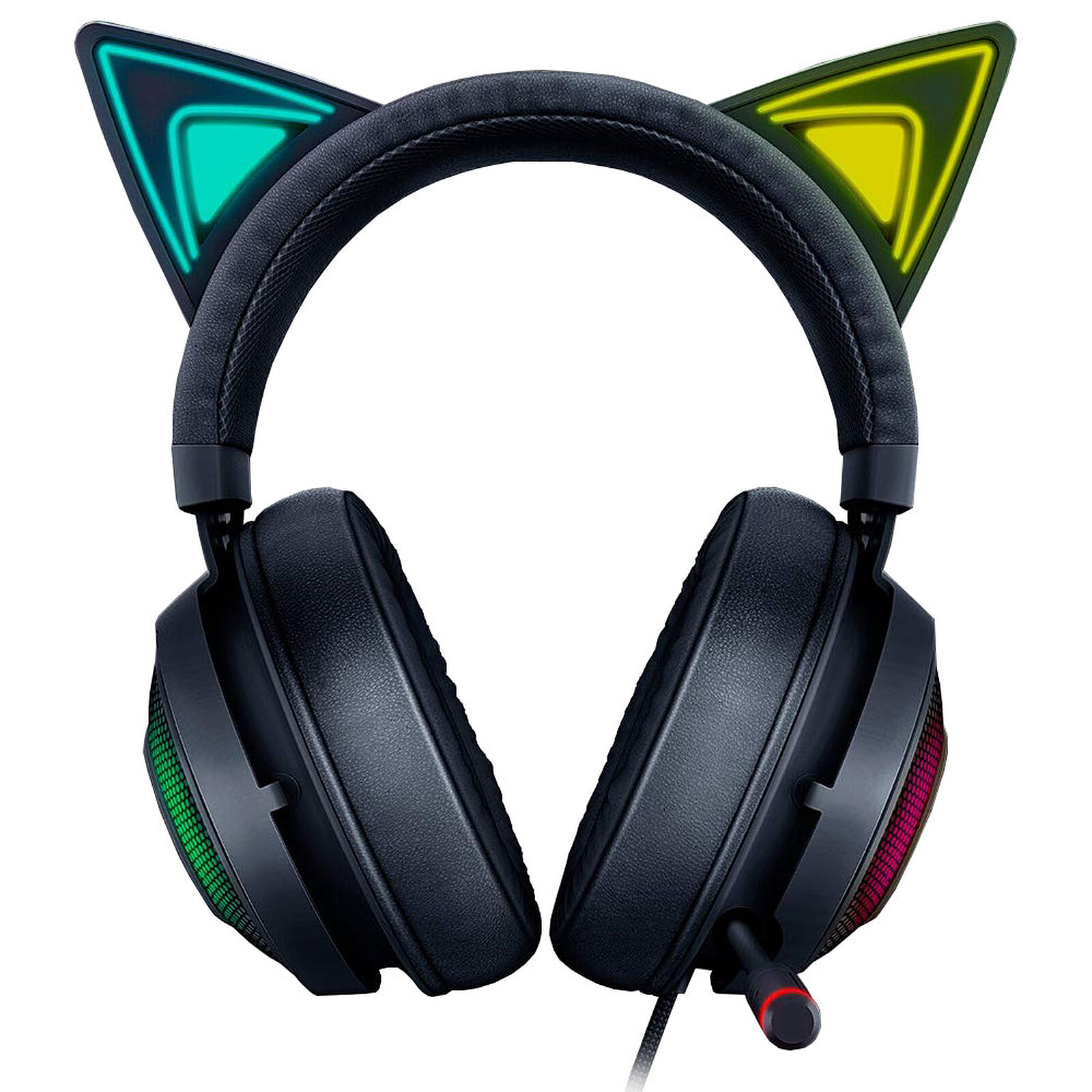 Whilst this is a £150 headset direct from Razer, I acquired it was for just under £67 as part of an Amazon Warehouse deal (its £99.99 otherwise). Within hours of it arriving sadly (and I found I was not alone after some research) I had an issue with intermitted cut out and popping.

Before I get into that into more detail, lets look at the specs:
USB connection, so works (in theory) with any device that has a USB connector.
Speaker frequency 20Hz – 20Hz
Speaker Size 50mm
Active noise cancelling microphone
Heat-Transfer Fabric / Leatherette / Memory Foam
Kitty Ears and Earcups Powered by Razer Chroma
Weight 0.41 kg
First play with these was amazing, it really was. They are so cute and comfy and the sound quality is amazing. I have a few headsets at home for the Gym or listening to music and the quality for music is way better than my Skull Candy's, and I do not say this lightly. I was thrilled, I got what I paid for – they are a joy to wear (even with glasses) and they work amazingly.

Or so I thought.
It all went wrong when I added RGB lighting through the Chroma Studio.
Initially it seemed like this was just an issue with the headset as it is power hungry with the RGB lights, but even after buying a USB extender with additional mains power (which was one Reddit suggestion), it STILL had the issue.
I also followed a number of online guides (not from Razer as there is no official support for this issue), clean installs and everything, all the way down to disabling THX and the mic. The longest I have gone without the popping issue is after the clean install for maybe an hour, but even plugged into the PlayStation directly it cuts out!
Finally I did the clean install, mains powered USB and no lights- this does literally defeat the point of having an RGB headset but I wanted to make sure I eliminated all of the possible issues.
So what to do?
I had perfect clear amazing quality with THX surround sound, but no pretty lights… but I did get it for less than £67. I am also not the only person in the world who is having the issue, so do I return it and go for second headset and see if the issues are the same? Do I keep it and just have no lights or do I sack Razer totally and move onto a different headset? Well it started it cut out AGAIN.
I decided to send it back and get a refund instead of a replacement. I had another issue with them over my Cynosa V2 keyboard (after only 12 weeks) and the customer service policy was pants.
You're paying for the name with Razer – NOT the quality. Its unreliable with the pop and cut out and cannot be used for streaming and gaming. Its entirely useless.
Shiney Rating
0 out of 5
Its £150 of headset and should ideally all work, the fact the internet has had a lot of similar problems with no 'official' fix is frustration and the customer service was frankly lacking when I mention this along with another issue I was having. Save your money and go elsewhere. Its just not worth the hassle.