After two weeks alcohol free I can certainly agree with most of the benefits I am seeing.
Getting through week 1 and week 2 have been good actually, but this is the week I have been most excited about – BECAUSE I GET TO GO BACK TO THE GYM!
Okay, it could be argued from those of you who think people like me 'overreact' to new variants but when you have asthma, have already had COVID once, you tend to be be more wary. So now its two weeks since my booster, life is finally back to my (pandemic life) normal.

Lets see how that meant we got on with week 3 of sobriety:
Day 15
Late start today again as we haven't been going to sleep until 5am the last 2 days but a solid night sleep is making a huge difference. I did have spot minimal sport breakout but rather than pick at it like I usually do (because I feel low about them) I instead took the self care approach and was in a tea tree face mask before my first cup of tea for the day! Still feeling relaxed, productive and overall less anxious which was helped by another 4.5 mile walk and a noticeable drop in how much we are spending on food and how often we need to actually go to a supermarket. Given were still both nervous of people who don't wear face masks, the less we need to mingle in shops – the better.
Day 16
Another late start, we finished Cheer on Saturday night (Sunday morning) but I am still getting to sleep and sleeping like a baby! Decided to take it easy today and didn't bother with the big walk, we also didn't need to leave the house for food etc so it was really nice to have a lazy Sunday to focus on other things and not because we are hung the fuck over and need it to recover. I will admit tonight I did want a drink, and I am looking forward to trying a few treaty things with alcohol once I get past January but I don't want to get drunk. I found some vegan drinks that are like Baileys and given how much I love a hot chocolate at night, this is something I want to try when I am out the other side. I have definitely shifted what I want alcohol for now – a treat not the norm.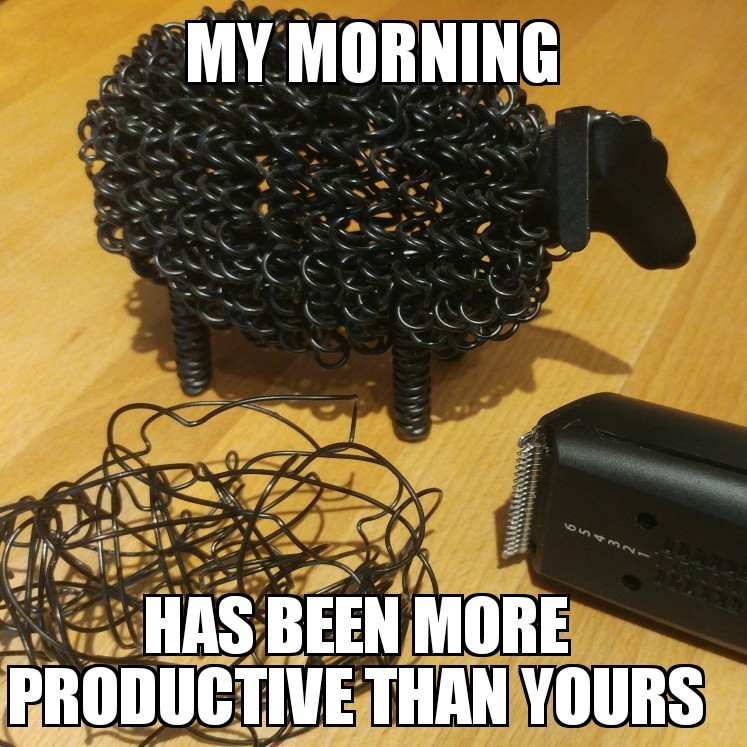 Day 17
Day off streaming today but I have still managed to work for about 8 hours+ without meaning to. Not like flat out work but getting lots of little bits done for the website and getting things ready for the affiliate celebration stream and Gameblast 22. Still wasn't up until midday but the bed times have been rolling back and I am definitely sleeping deeper and better. Its amazing looking the limited sleep tracker my basic watch has and seeing the difference over the last few weeks. I was bound by staying home for deliveries today, but seeing as the gym is a go from Wednesday again, I am not too worried about that.
Got a mountain of new games this week (4 so far) and the podcast this Saturday so its a busy work week.
As I write this at 8.35pm I realise I should really stop and go and run my bath but I am also trying to fault find with my new headset to see if its still having power issues, so I keep finding reasons to stay plugged in.
Day 18
We were up late, again. Not because we couldn't sleep or we were binge watching anything but because we were just doing stuff. This is whar I thought would happen in week 1, but clearly my body needed to catch up on a lot fo rest but all I can say now, is I am having a really hard time 'switch off' my productivity. That might not sound like a bad thing (and to a large extent it isn't) BUT I am finding it hard to be 'lazy'.
My plan to get up early failed, it wasn't enough sleep when my alarm went off. But I feel with tomorrows gym and hosting Jackbox (which I find the most mentally taxing of all the streams I do) I should be fine!
Instead it was an day filled with anxiety about timings that suddenly got relieved when one of my commitments was cancelled. I think I may be pushing too hard with an article every day this month on the website but I am SO CLOSE so, I banged out FOUR first play/review streams today and yeah, I am a bit tired so I am meaning to get off the computer before 12:30am. WHOOP!
Day 19
FREEDOM DAY!
Two weeks post booster and back to the gym. Thank fuck.
I am hoping this will help curb the over productive energy and make me have some down time because I will be physically more exhausted. I was certainly more tired by the end of the stream, but I also find Jackbox the most mentally tiring of all the things. Its still going well though, but rather than be pious about how many days after Jan 31st I won't drink we have been discussing new ground rules for alcohol. I have really leant into my hot chocolate addiction today though, which has been nice, I even got complimented on my skin and memory is SO good.
Day 20
This has been the hardest day.
Without something to switch my brain off I have now been working flat out for nearly 3 weeks. Yes I have made time for self care and meditation but I can't stop trying to clear things off my to-do list. I have 9 to-do post its, 3 more streams before a day off, reviews to finish, stuff around the house to do and today was the pressure cooker moment when I just snapped.
My OCD is back, I can't go to bed without doing the washing up. I can't get out of bed without making it.
I cannot just 'be chill'. There is too much to do.
Day 21
Three weeks! Ha.
My over productiveness has taken over and whilst I am thankful for the overall benefits of giving up, I don't like the inability to switch off, slow down and stop. Its always been an issue for me without an 'anti-stimulant' – if I didn't have alcohol, I had weed and this time I don't have either.
Its easy to praise the productive outcome of someone who seemingly has their shit together when you don't see the pressure cooker release valve moments when you just want a fucking break from yourself.
The gym, meditation, a bath, cooking – they are nice escapes but I am struggling to just stop.


Week 3:
Walked over 17 miles, went to the gym 2 times and lost over 2kg.
I am hoping sharing my experience has been helpful. I know that recording the experience has meant it was at times much easier to carry on and not 'crack'. If you or someone you know is struggling with alcohol dependency please in the first instance speak your DR, GP or local alcohol charities. It is possible to go from nightly use to a healthier relationship but its hard to do alone. See you again next week!