When you scroll on keymailer looking for fun, what do you look for? Me? I look for fun, nostalgia and something I might be able to complete. So when I saw this offering from TheAmanStudios I did a little squee and requested.
In terms of response to my request, not only was the turn around really fast but I was also really pleased with the response to my initial tweet saying that this game was now in my review pile. Its the first response I have had from a developer before a review has gone live and it really gives you the impression that they want that feedback and interaction from players. That filled me with hope!
You can see our first play of it here (warning: we can't get past level 1)
So what is it about? Basically you hatch as a cute little dude and a series of baddies are dispatched to kill you – basically. It seems that each "baddie" gets their own level and on that level you battle a certain type of enemy. I say seems – at the point of writing this I have not been able to make it to level 2 so I honestly don't know other than assuming.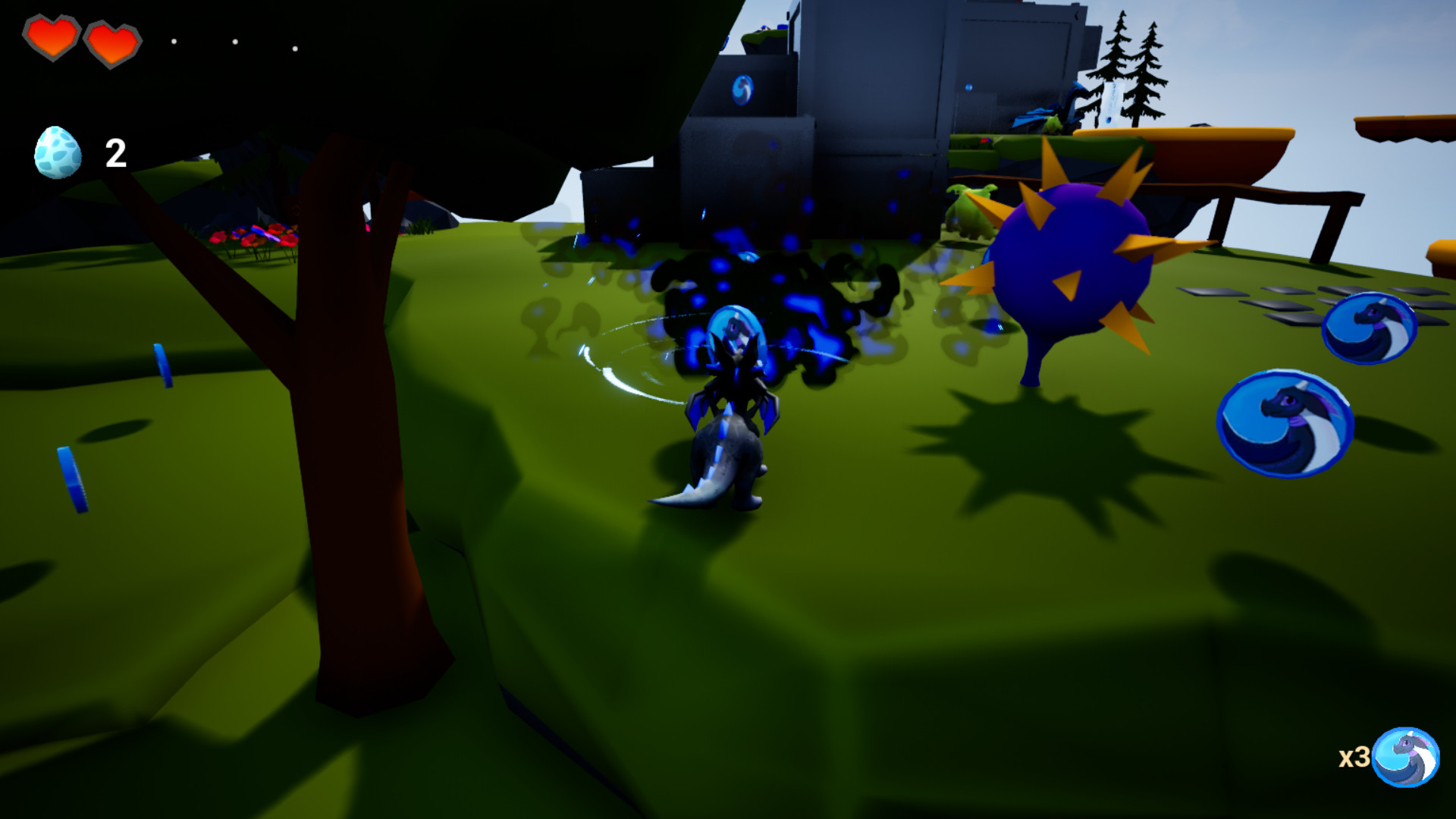 Here is where we find our biggest issue with the game – the jumping. The dragon feels so heavy, like it struggles to make jumps that it should make. After our 3rd or 4th restart of the first level we gave up. I did reach out to the devs about this but the only suggestion they has was one we had tried (swapping controllers). It doesn't feel like controller or WADS mapping should make a difference. This feels entirely like a game physics issue.
I did appreciate the devs getting back to me – and so quickly but the response was more like "have you tried turning it off and on again" instead of like "we are aware and we're on it". Having read some of the other reviews, it doesn't seem like I am the only person who's has this issue so far… so I can only hope there is a fix on the way.
The other thing I have noticed from social media is the games like to crypto currency. Maybe it's because I'm not far into the game yet but I haven't noticed this coming up in game – but reviews on steam that have mentioned it have been less than favourable.
The thing is, I really want to like this game – in fact I do. It's reminiscent of Spyro the dragon – but the colour pallet on level on is a bit on the darker side (like nice bold colours but why are they so dulled?). I can't comment on further levels yet because of the jumping. The music was also very pleasant but I don't know how much variation there is between levels.
One thing I found especially irritating was the game not recognising a controller for the prompts about character heads. It's a minor bug bear, but most games now realise it's either a controller or keyboard/mouse.
The major other thing that became more irritatingly apparent when we had to restart the level was how SLOW the dragon is. Why can't he run faster? Why when we die from the fucking jumps is it a slow crawl back to the exact same infuriating point.
In terms of what it is like to stream this game:
Pros
Everyone got to reminisce about Spyro
Graphics & soundtrack were initially praised
The stream liked the aesthetics of the game
Cons
Initial opening videos did way too much of the spinning panning thing, audience did not approve
Interest dropped off because we could not progress
Viewers weren't sold on it
I wish I could say more about this game, I really do. But the jump mechanic has meant my experience has been totally limited. I do want to progress and see where it goes but until there is some sort of patch or fix, I am beyond irritated to say I just can't.
Shiney rating
2 paws out of 5
Concept is fine, graphics are fine, music is fine but the execution is ruined by the jump psychics making him feel like a lead balloon. I will happily go back to it when it's patched and I do appreciate the twitter replies about changing controller but as a veteran gamer this was already my first port of call. I look forward to seeing a fix, or it's unlikely we will play it again.